I was persuing the
DCC Rules
sub-forum over at the
Goodman Games Forums
and I saw a thread there on "Recovering the Body". For those not familiar with the ins and outs of DCC, there is a rule that goes someting like this: If a character goes down in battle, if after siad battle allies can get to the body and roll it over, the character gets to make a Luck check and, if successful, actually not be dead. There are, of course, some pretty serious consequences to surviving in this manner - you lose a point of Strength, Agility, or Stamina and you're at -4 to all rolls for the next hour (6 turns) due to being groggy. You're also only at 1 HP unless some healing can be applied.
As is pretty usual on the DCC forums, answers were wide ranging and usually helpful/positive. One even suggested you could open the next game session with the character(s) in Hell looking for a way to get out. This got me to thinking...what about a Recovering the Body table?
The first thougiht was how fun it would be if instead of being in hell, the character brought a little piece of hell back with them.
The second thing I thought was that I wouldn't want another roll. So the table is based on the difference between the target number of the roll, and the actual roll. This also has the benefit of being applicable whether you like the Roll-Under-Your-Luck check or the Roll-Over-Target check.
So this was my first pass at the table: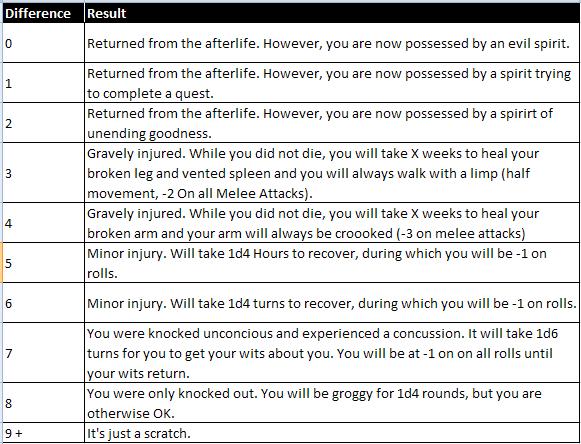 But then I realized that it was a bit haphazard, and it didn't incorporate any of the current rules for Recovering the Body - like loss of Stamina or Strength, or grogginess. So I did a little editing and came up with this: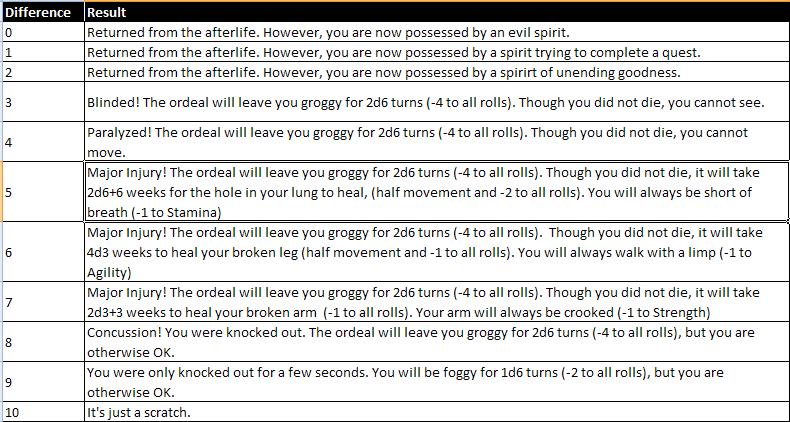 So there's the first and second pass. I'd love to hear your input. Hit me with your best shot, I'm sure my ego can recover....